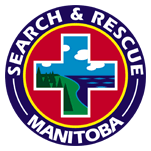 Training
Training for Search and Rescue in the province of Manitoba is coordinated through the Manitoba Emergency Services College, which is operated by the provinces Office of the Fire Commissioner.
A 20 hour Ground Search and Rescue – Basic course is the first step to becoming a Search and Rescue Specialist and is offered at the Manitoba Emergency Services College. Details of course information can be found in the Manitoba Emergency Services Course Catalogue at www.firecomm.gov.mb.ca

Free SAR Training opportunities are made available for Search and Rescue Manitoba volunteers. Courses are coordinated on a need by need basis and based on New Member Applications received by the individual SARMAN Chapters and teams.
In addition to these courses, local, regional and provincial GSAR training exercises are conducted on an annual basis. The locations of this training are moved around the province throughout the year.
VOLUNTEERING:
If you are interested in becoming a Search and Rescue Manitoba (SARMAN) volunteer contact us at the address listed on the Contact Us page.
SARMAN Volunteers are all required to have at least the following:
GSAR Basic
ICS 100
Standard First Aid and Level C CPR
Proof of satisfactory Criminal Records check and Child abuse registry